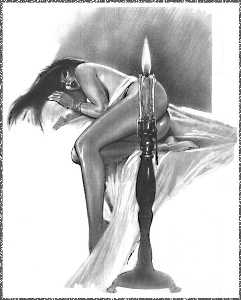 So, so you think you can tell
Heaven from Hell,
blue skies from pain.
Can you tell a green field
from a cold steel rail?
A smile from a veil?
Do you think you can tell?
And did they get you to trade
your heroes for ghosts?
Hot ashes for trees?
Hot air for a cool breeze?
Cold comfort for change?
And did you exchange a walk on part in the war
for a lead role in a cage?
How I wish, how I wish you were here.
We're just two lost souls swimming in a fish bowl, year after year,
Running over the same old ground.
What have you found? The same old fears.
Wish you were here.
OJALA ESTUVIERAS AQUI (Wish you were here/ Waters, Gilmour)
Así que crees que sabes distinguir
El cielo del infierno
El cielo azul del dolor
¿Sabes distinguir un campo verde
De un frío raíl de acero?
¿Una sonrisa de un velo?
¿Crees que puedes distinguir?
¿Consiguieron hacerte cambiar
Tus héroes por fantasmas?
¿Cenizas ardientes por árboles?
¿Aire caliente por una brisa fresca?
¿Frío confort por un cambio?
Y ¿cambiaste
Un papel principal en la guerra
Por un papel protagonista en una jaula?
Ojalá, ojalá que estuvieras aquí.
Solo éramos dos almas perdidas
que nadan en una pecera
Año tras año
Corriendo siempre sobre
el mismo viejo camino
¿Que hemos encontrado?
Los mismos miedos de siempre
Ojalá que estuvieras aquí.